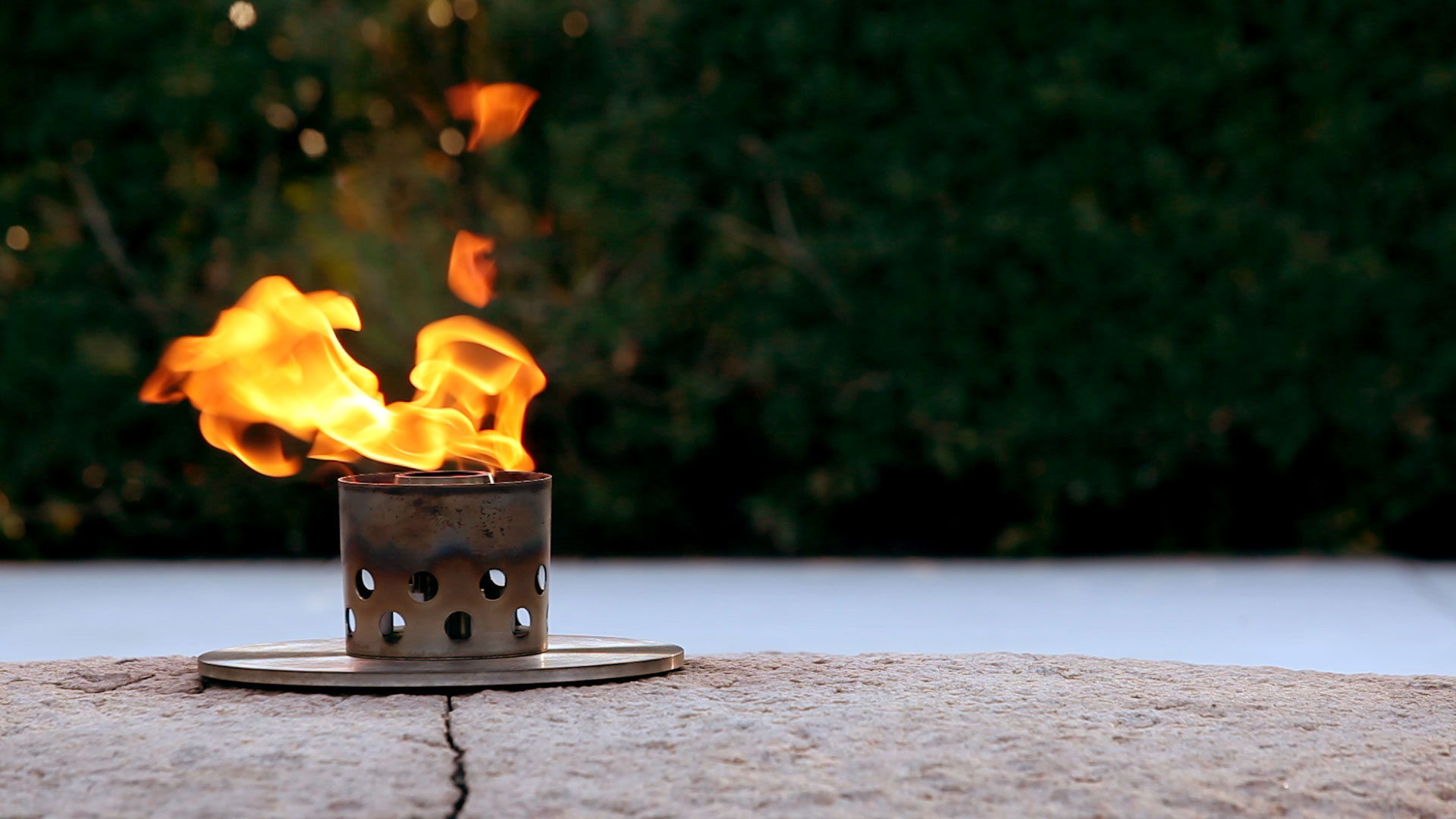 Arlington at 150
Celebrating America's Heroes
scroll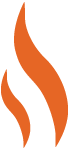 Arlington at 150
Celebrating America's Heroes
By Mike Morones
Among the rows of headstones blanketing Arlington's rolling hills, former Defense Secretary Robert Gates sees one common theme. "There is a continuity of sacrifice of generation after generation doing their part to protect our country, to hold it together and to protect our people," he says. "… I think it's this sense of historical longevity and the fact of, because of its size, because of its location, it's the one great military cemetery where all Americans can identify with patriotism and with sacrifice."

Since the first military burial here May 13, 1864, Arlington National Cemetery has become the final resting place for more than 400,000 soldiers, sailors, airmen, Marines and their families. Those who on Sept. 11, 2001, died only a few hundred yards away at the Pentagon are buried here, as are the Challenger astronauts. Fifteen thousand soldiers from the Civil War — Union and Confederate — rest in Section 27 and Section 13, known as the Field of the Dead. Four thousand freed slaves, many identified only as "Citizen," and two presidents also are buried at Arlington.

Up to 30 burials are conducted at Arlington every weekday. Mercifully, the number of casualties from America's most recent wars is dwindling, but the pace of operations — about 7,000 burials per year — remains steady as veterans of World War II, Korea and Vietnam pass away.
On a spring day, when the skies are clear and the magnolias are in bloom, it's easy to forget that Arlington is an active cemetery. Tourists and boisterous school groups walk among the memorials, passing plaques that recall events central to the nation's evolution. "You see the tourists in all their varied costumes, but there's a solemnity to it," Gates says. "They seem to know they're on hallowed ground, and it affects their behavior. The same tourists that might be rude and pushy when they get off the subway stop at Arlington, are very different once they're inside."

That's because those who come here are compelled to reflect upon all that Arlington represents. In the broadest terms, it is a sprawling monument to the extraordinary cost of preserving and protecting the American way of life. On a much more personal level, it is a celebration of the men and women who gave everything defending the liberties many may take for granted.

Men like Sgt. Michael Hardegree, a paratrooper with the Army's 82nd Airborne Division who was killed in 2007 along with six other soldiers when their vehicle rolled over in Baghdad. His mother, Cindy Kruger, recalls visiting the cemetery with her son before his first deployment. As they walked among the headstones, Michael told his mom, "I just want you to know if anything happens to me, I want you to take me to Arlington."

"I knew that was his wish," she says, "and I'm very glad he told me that's what he wanted." Had she not known her son's wishes, Kruger likely would have had him interred here anyway, she says, briefly revisiting a trip to Arlington as a teenager. Michael's funeral service was "quite comforting," she says. "The ritual and routine and professionalism. To know that there would be no glitch. It was the last thing I could do for him, and like any mother, I wanted it done well. And I knew that I could count on them to do it perfectly. And it was."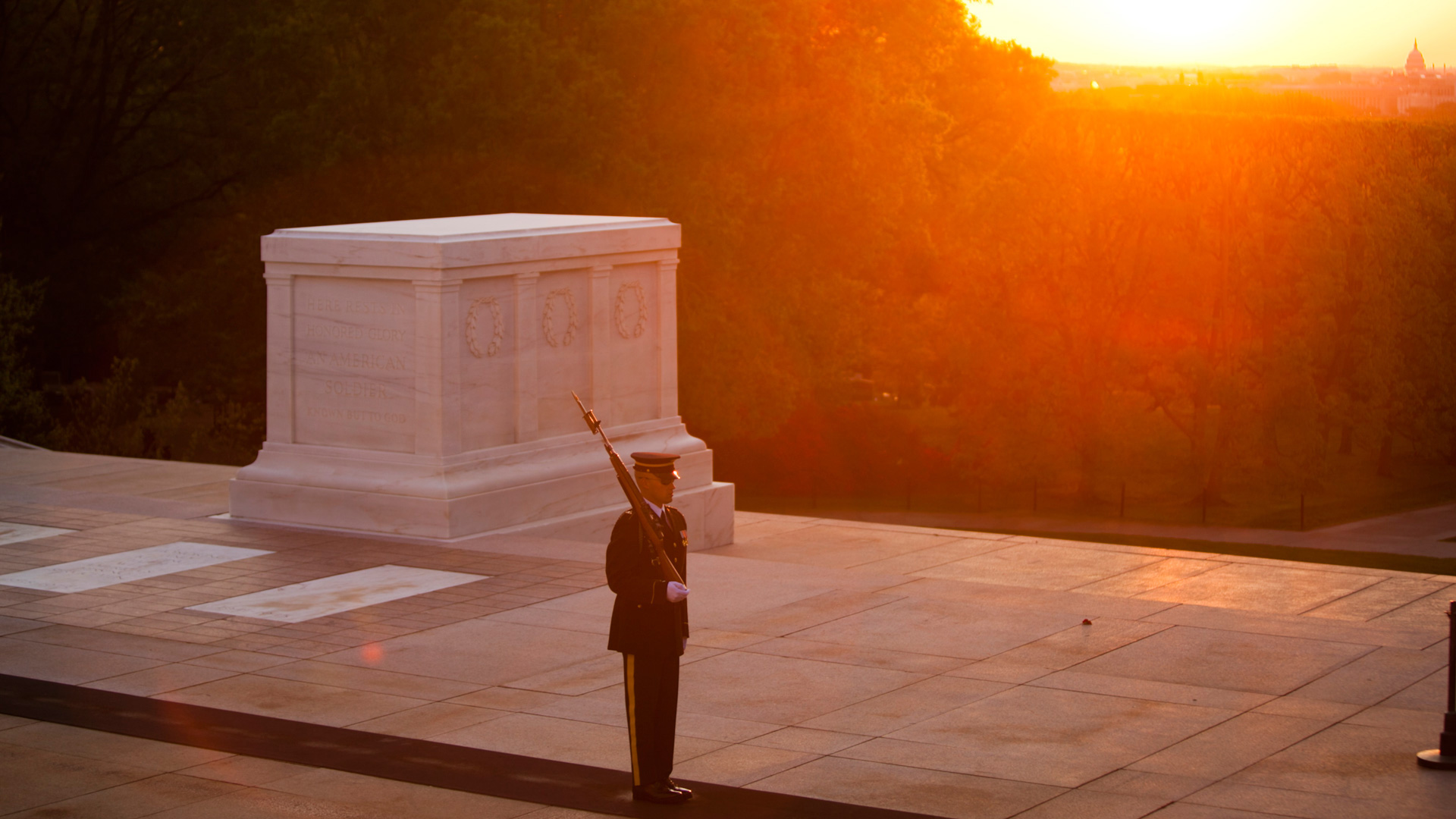 A Sentinel completes the 21-step walk on the mat in front of the Tomb of the Unknowns at sunrise, pausing for 21 seconds. "It's our way of giving the Unknowns a 21-gun salute all day in silence," says Sgt. 1st Class Tanner Welch, Sergeant of the Guard.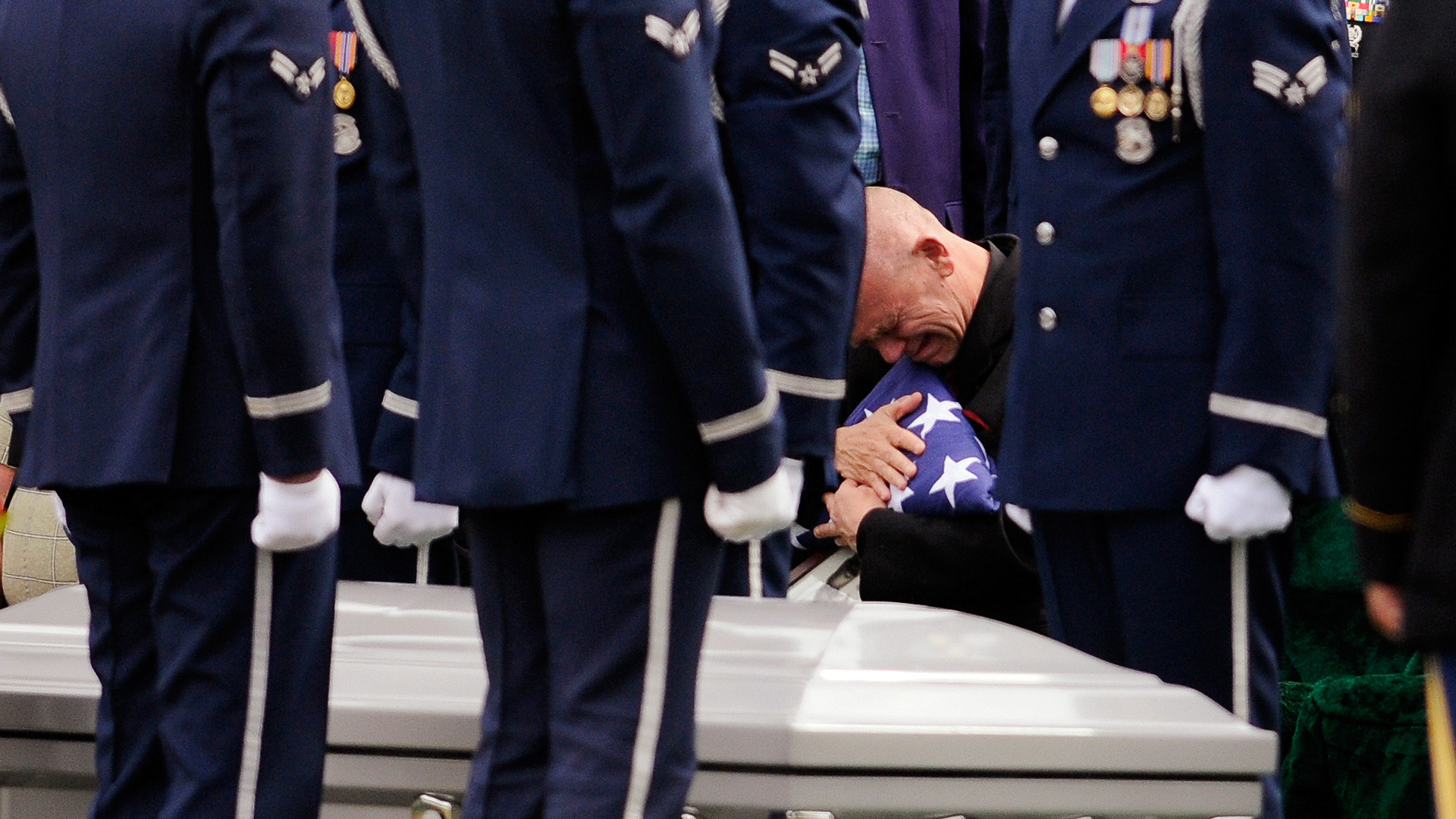 Steven R. Woods receives the flag for his father, Army Staff Sgt. Lawrence Woods, during a burial service on March 21 for seven service members who died on Oct. 24, 1964, near Bu Prang, Vietnam.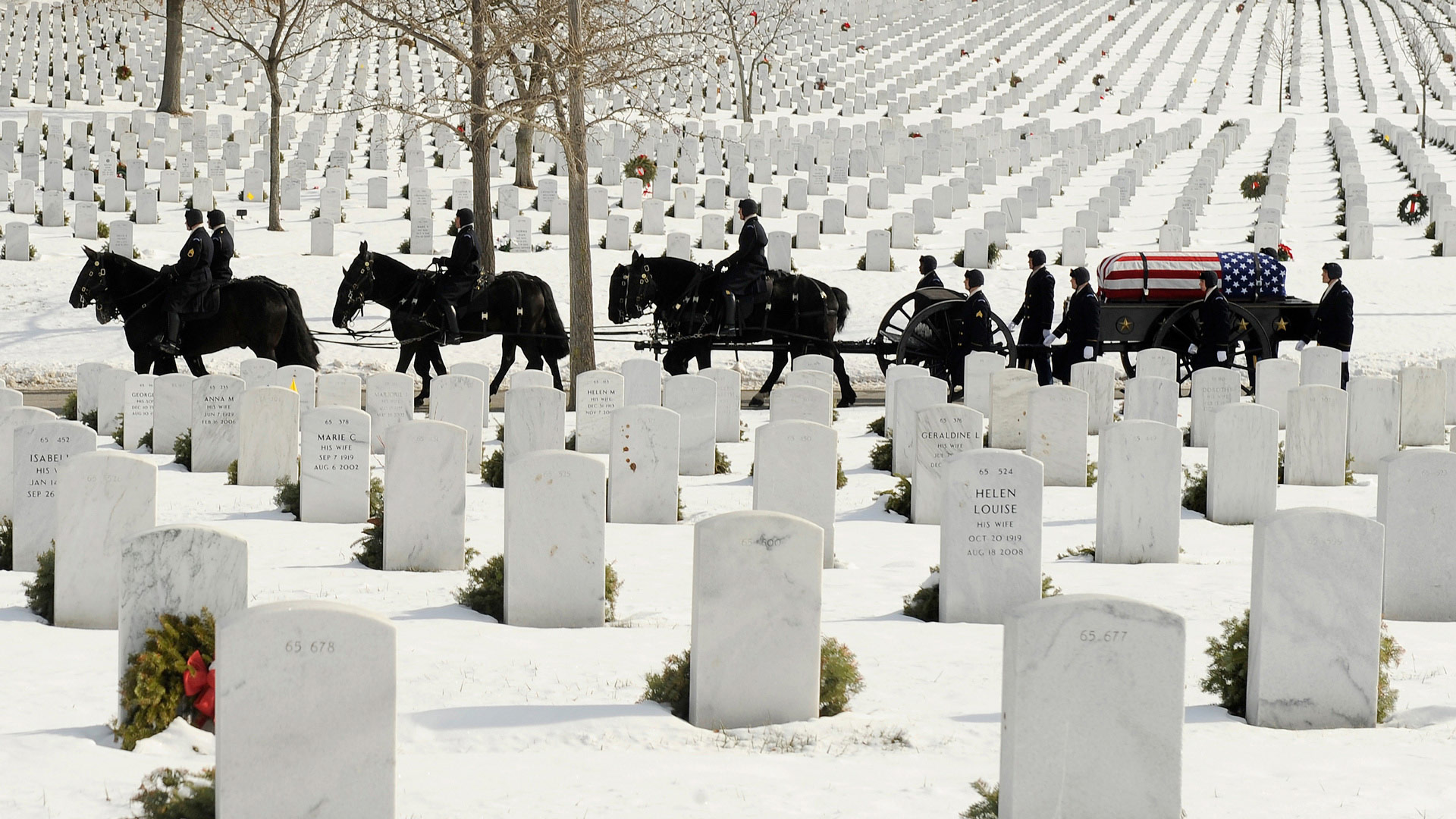 A caisson team from the Old Guard carries the remains of Army Sgt. Peter C. Bohler to Section 60 at Arlington National Cemetery on Jan. 23. Bohler died in a helicopter crash in Afghanistan on Dec. 17, 2013.
A Look Back
"The history of our nation and our military is told here at Arlington National Cemetery. From the American Revolution and War of 1812, veterans that we have buried in Section 1, up to our service members from OIF and OEF," says Command Historian Stephen Carney, referring to operations Iraqi Freedom and Enduring Freedom.

Section 27 is the site of Arlington's first burials. Pvt. William Henry Christman of the 67th Pennsylvania Infantry was the first soldier buried here in 1864. Christman, like two-thirds of those who died during the Civil War, fell to disease rather than combat wounds. Five weeks after enlisting, he died from measles and peritonitis. A month after his burial, Arlington was designated an official national cemetery.

Originally, Arlington was the family home of Mary Anna Custis Lee, wife of Confederate Gen. Robert E. Lee and granddaughter of Martha Washington. When Virginia seceded in 1861, Union troops quickly took control of the property because it commanded a panoramic overview of Washington, with a clear line of sight for artillery.

"By the spring of 1864, another big problem the Army had in and around the District of Columbia was that we were simply running out of burial space for soldiers, both from the North and the South, who died in hospitals in the area," Carney says. The 1,100-acre Arlington estate, already home to Union fortifications, was considered suitable burial ground given its size and proximity to Washington.
Among historians it's thought that Quartermaster General Montgomery Meigs, whose oversight included procuring space for military cemeteries, felt betrayed by his contemporaries who resigned their commissions and joined the Confederacy, though there is no written record saying so. The fact remains that additional burial space was sorely needed around Washington. Not only was Arlington aesthetically pleasing and close to the District, but Carney also notes that Meigs undoubtedly wanted to ensure that no family, including the Lees, would be able to inhabit Arlington ever again.

On the first Memorial Day in May 1868, Brigadier General and future president James Garfield said of Arlington, "This will be forever the sacred mountain of our Capital. Here is our temple, its sacrament is the sarcophagus of the heroic hearts; its dome the bending of heavens; its altar candles the watching stars. Hither our children shall come to pay their tribute of grateful homage."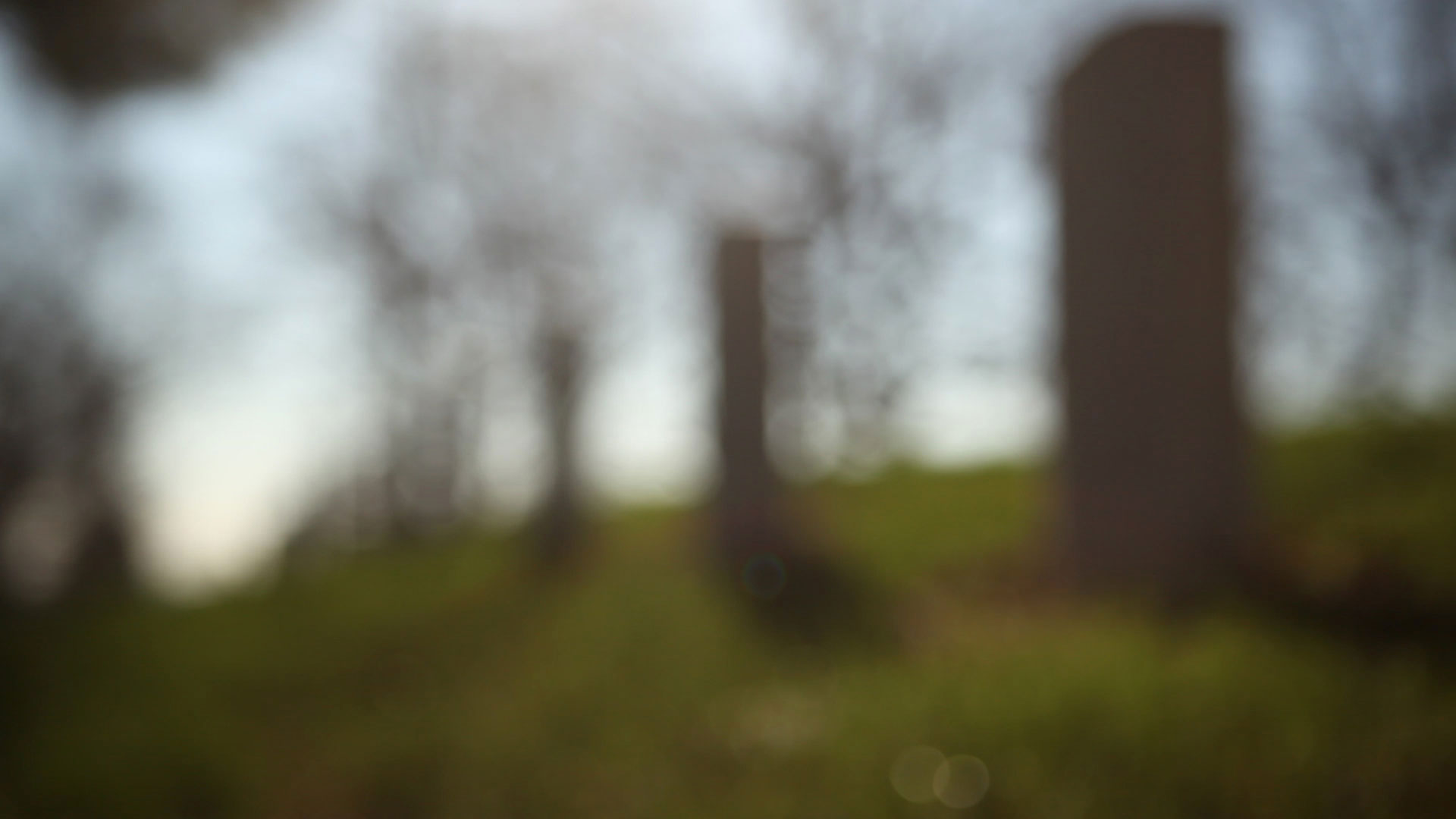 Arlington National Cemetery averages 27-30 funerals every weekday and a handful on Saturdays. That's about 7,000 annually. Expansion is currently underway with plans to accommodate an additional 30,000 burial and niche spaces.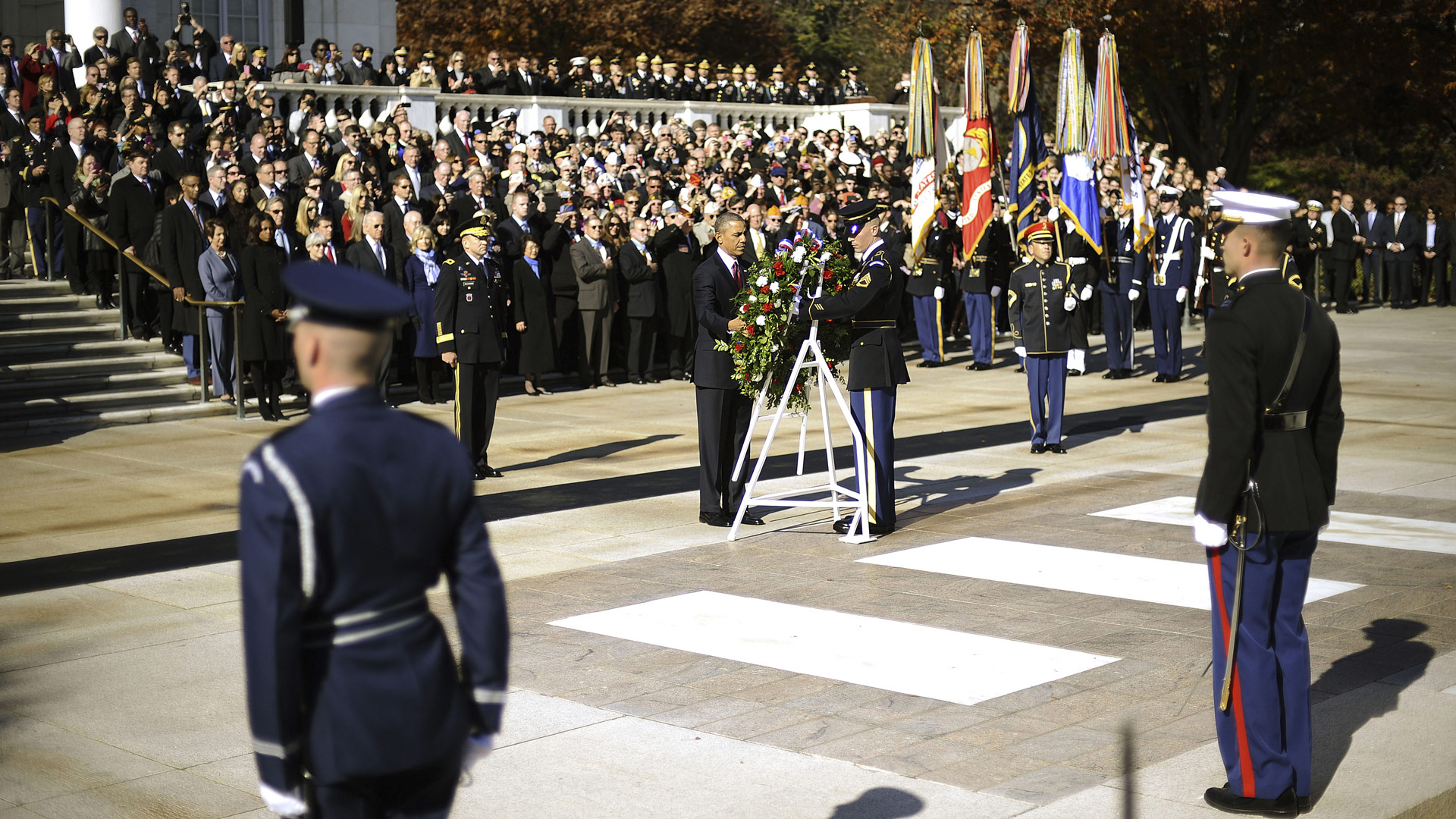 Wreath ceremonies take place at the Tomb every day, ranging from simple observances involving individuals or school groups to full honors ceremonies involving visiting dignitaries or heads of state.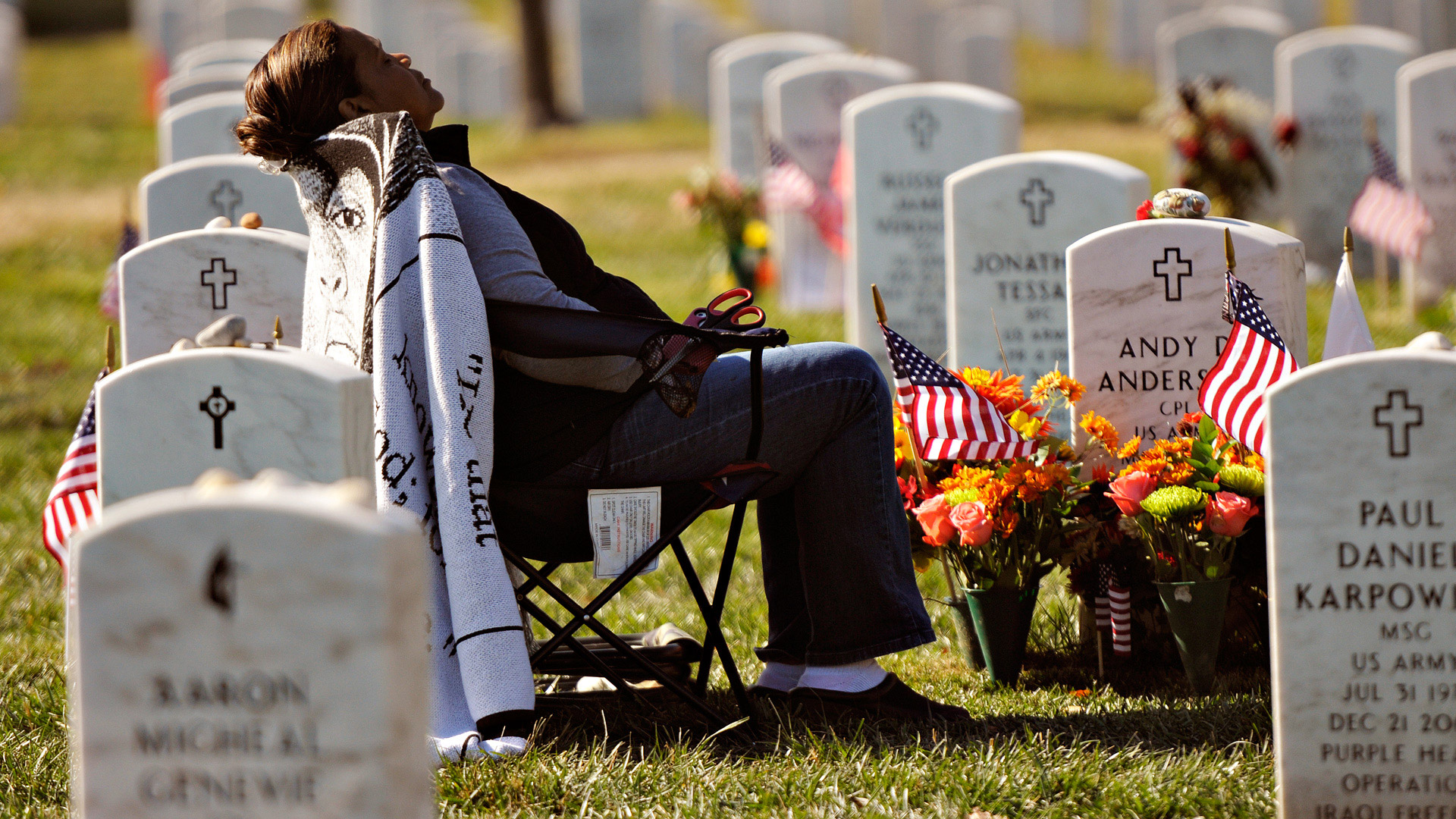 Xiomara Mena Anderson of Falls Church, Va., visits her son, Army Cpl. Andy Anderson, in Section 60 on Veterans Day 2013. Cpl. Anderson died in Ramadi, Iraq on June 6, 2006.
HONORING VETERANS AND THEIR FAMILIES
Just as the cemetery representatives tend to the families of the fallen and the Arlington Ladies attend each funeral to ensure that nobody is buried alone, the grounds serve as a measure of comfort for those interring their loved ones at Arlington National Cemetery. "Our mission," says Stephen Van Hoven, chief of the cemetery's horticulture division, "is to maintain these grounds as a national shrine. Our whole focus is to honor our veterans and their families. When a family comes here for a funeral, they know they're going to have that funeral in a setting that is befitting the service of that veteran or that spouse."
Arlington is home to about 8,500 trees. Among them are two state champions — the Empress and Yellowwood — and 300 varieties. Some are native to this property. Others were planted in remembrance of a person, unit or event. Many are marked with a small sign identifying its variety. As part of the cemetery's 150th anniversary, the grounds have been designated a memorial arboretum, recognition "that we're dedicated to preserving the landscape here," says Van Hoven.
Map of Arlington National Cemetery
This interactive map shows the location of historic grave sites and monuments, memorial trees, and other points of interest at Arlington National Cemetery. Click on a marker and zoom in to learn more about each memorial.
Location data and memorial tree marker photos courtesy of Arlington National Cemetery. Historic figure portraits courtesy of Creative Commons. Cartography and point-of-interest photos by John Bretschneider.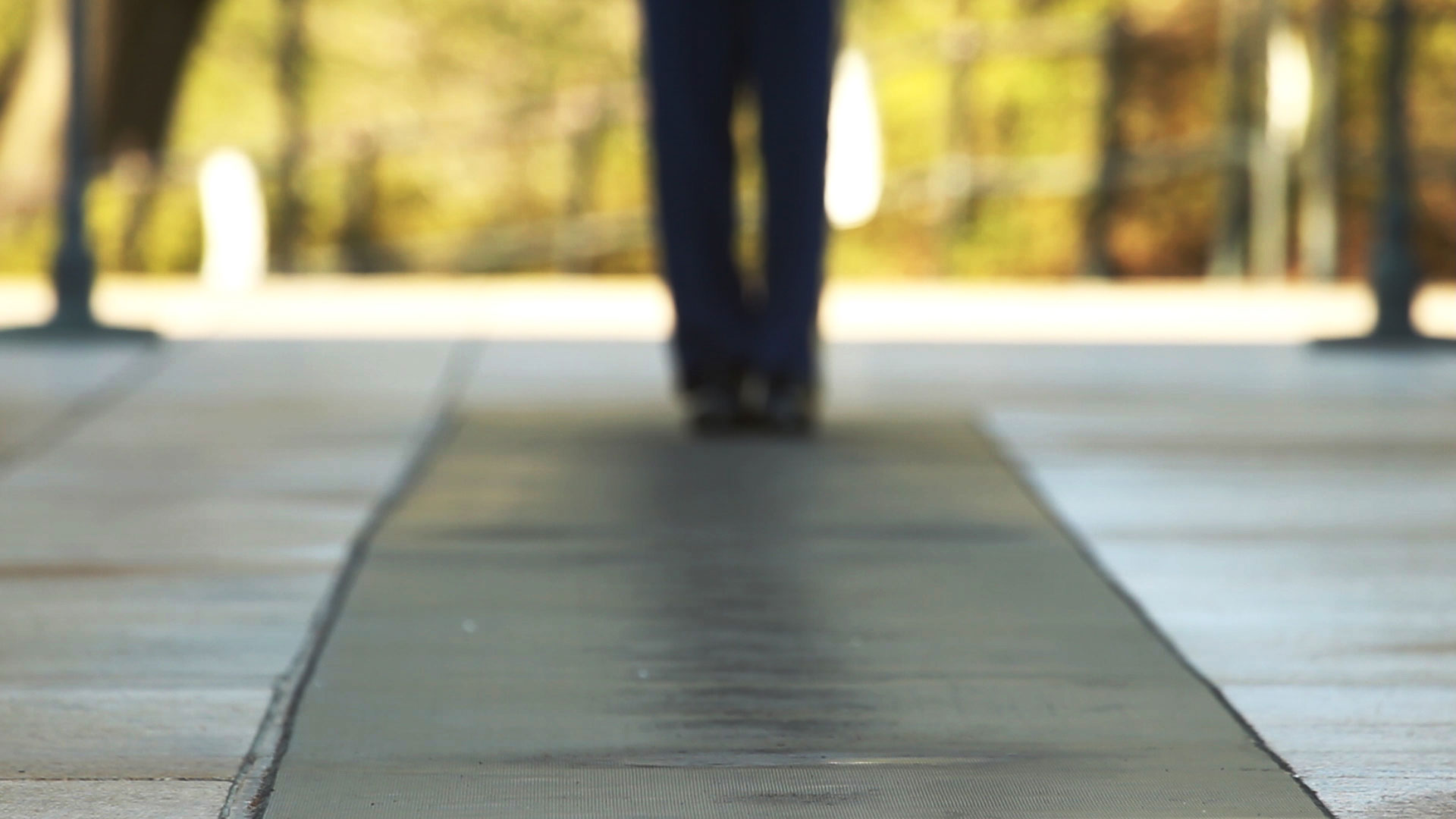 Sentinels walk 21 steps each way on the mat in front of the Tomb of the Unknowns. Many of the guards' movements are based around 21, representing a 21-gun salute, the highest honor possible.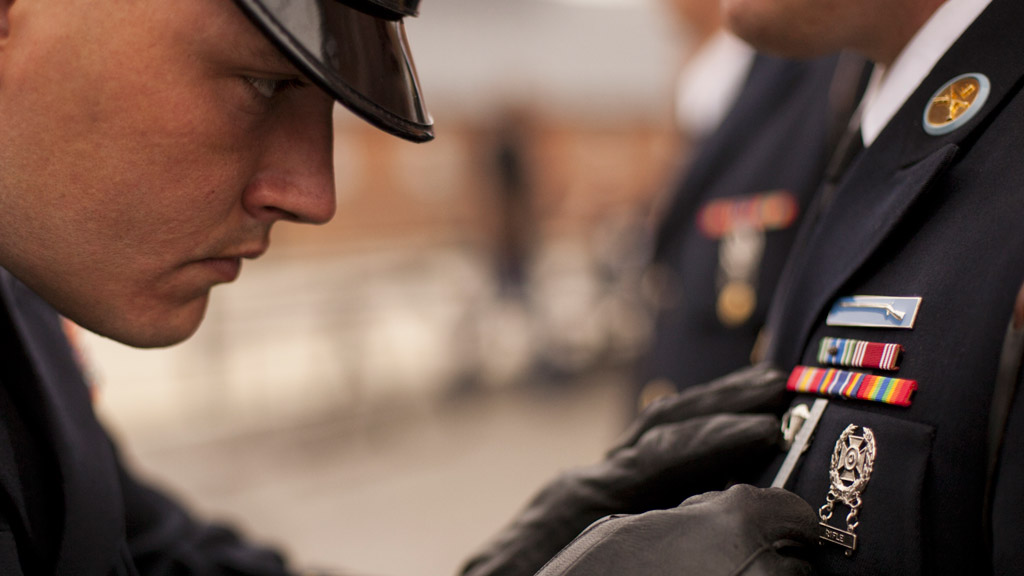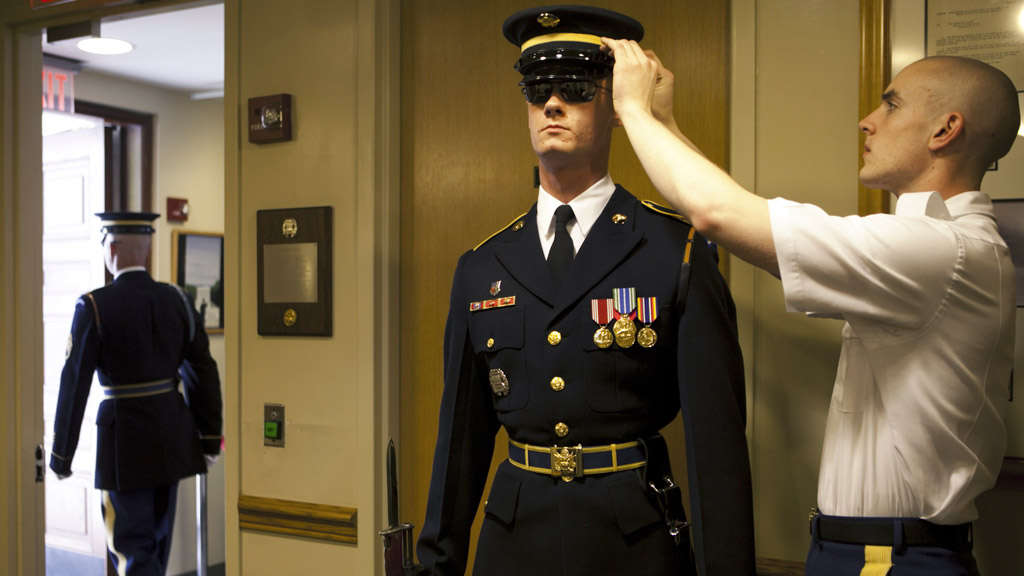 The 3rd US Infantry Regiment
Long before Arlington's stillness is broken each day by the drone of tour buses and visitors, before traffic jams snarl surrounding highways, soldiers with the 3rd U.S. Infantry Regiment — the Old Guard — are on duty.

Activated in 1784, the Old Guard changed shape and names several times early on. The name that finally stuck was bestowed by Gen. Winfield Scott during a victory parade in Mexico City in 1847. Today the Old Guard is responsible for the Army's ceremonial duties, including two of the most publicly visible missions at Arlington: manning the horse-drawn caisson for full-honors funerals and guarding the Tomb of the Unknowns.
Soldiers, mostly infantrymen, are up before the sun, washing horses and polishing brass and leather tack in a barn at nearby Fort Myer. The riders for the day arrive a little later and head to a dressing room to prepare their uniforms and polish their boots. Outside, tack teams clean the caissons and touch up any scuffs. As the sun rises, the six-horse teams are hitched to the caisson bearing a flag-draped coffin. Before they mount up, the section leader inspects his fellow riders' uniforms, using a ruler to spot the smallest of imperfections.

"Everything behind the scenes that it takes to make one full-honors funeral work, it's amazing, really, when you see it all come together," says Capt. Devin Osburn, caisson platoon leader. "Countless hours of practice, preparation, drilling and the uniform standards, they have to be perfect. All of the tack the horses are wearing is constantly cleaned, shined."

By 9 a.m., they're are on the move, the clacking of the horses' hooves and the rumble of the caisson's wood and iron wheels echoing among Fort Meyer's old brick buildings. Between the two teams, they will conduct eight funerals a day in all manner of weather conditions, striving to present grieving families with the comfort of ceremony and tradition. "I take a lot of pride being around this platoon — the guys, they work so hard and go the extra mile for the families," Osburn says. "Being able to push through the cold weather, the hot weather to make sure your formation or you yourself look the best you possibly can says a lot for this whole installation."
A mile away, at the Tomb of the Unknowns, Spc. Steven Carr pivots to face east and takes 21 steps. Sharply clicking his heels, he holds his position for 21 seconds, pivots left to face north and again holds for 21 seconds. Sgt. 1st Class Tanner Welch, sergeant of the guard at the Tomb of the Unknowns, explains that the 21 steps allude to the 21-gun salute, the highest honor bestowed upon a service member. "It's our way of giving the Unknowns a 21-gun salute all day in silence," he says.

Beneath the Memorial Amphitheater exhibit hall, the Old Guard's sentinels prepare for the next 30-minute shift. Several new soldiers, still in training, help Spc. Sam Barnett prepare for duty. They adjust his belt and blouse, making the crisply pressed blues even more formfitting than intended. Another sentinel-in-training uses masking tape to collect stray specks of dust. Welch says that while the Old Guard holds itself to high standards, the Tomb Sentinel Platoon takes it even further. Line six in the Sentinel's Creed neatly summarizes this sentiment: "My standard will remain perfection."

"It's a hefty responsibility," Welch says, "but it's very rewarding. Myself and several members of the platoon have friends interred here at Arlington National Cemetery, so having that responsibility is very near and dear to our hearts."

Sentinels stand guard at the tomb 24 hours a day, 365 days a year. It's been that way since July 2, 1937. That duty has fallen exclusively to the Old Guard since 1948. "I have no doubt in my mind," Welch says, "that the three Unknowns out there would not mind losing some sleep, not mind sweating it out in the summer or shivering it out in the winter out there to have an opportunity to do it. Everything we do pales in comparison to what was taken from them and the hundreds of thousands of others who have given their life, given everything, in the service to their country."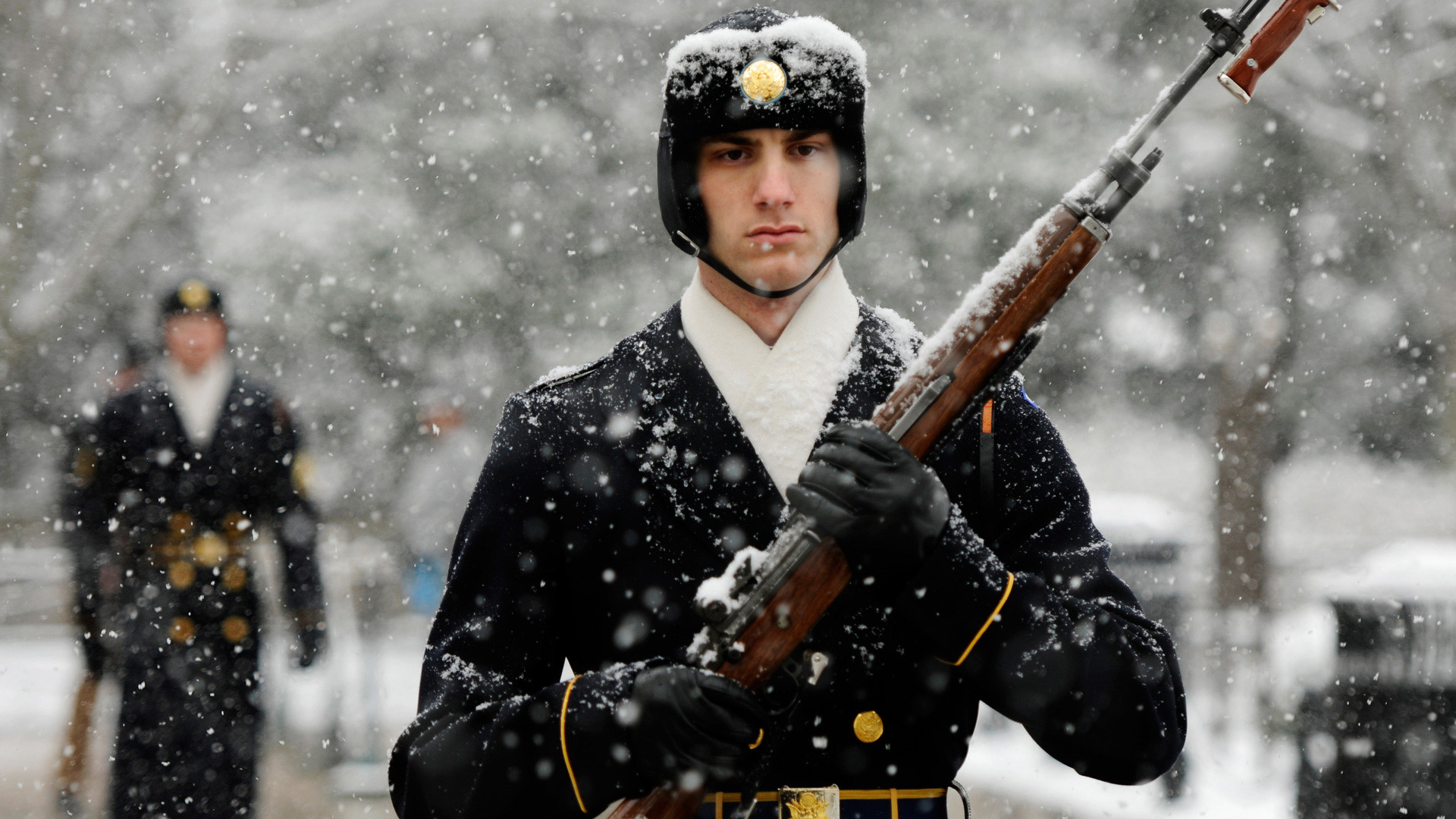 Spc. Brett Hyde leaves his post after being relieved at the Tomb of the Unknown Soldier. The Tomb has been guarded continuously since July 2, 1937, and exclusively by the 3rd U.S. Infantry Regiment since 1948.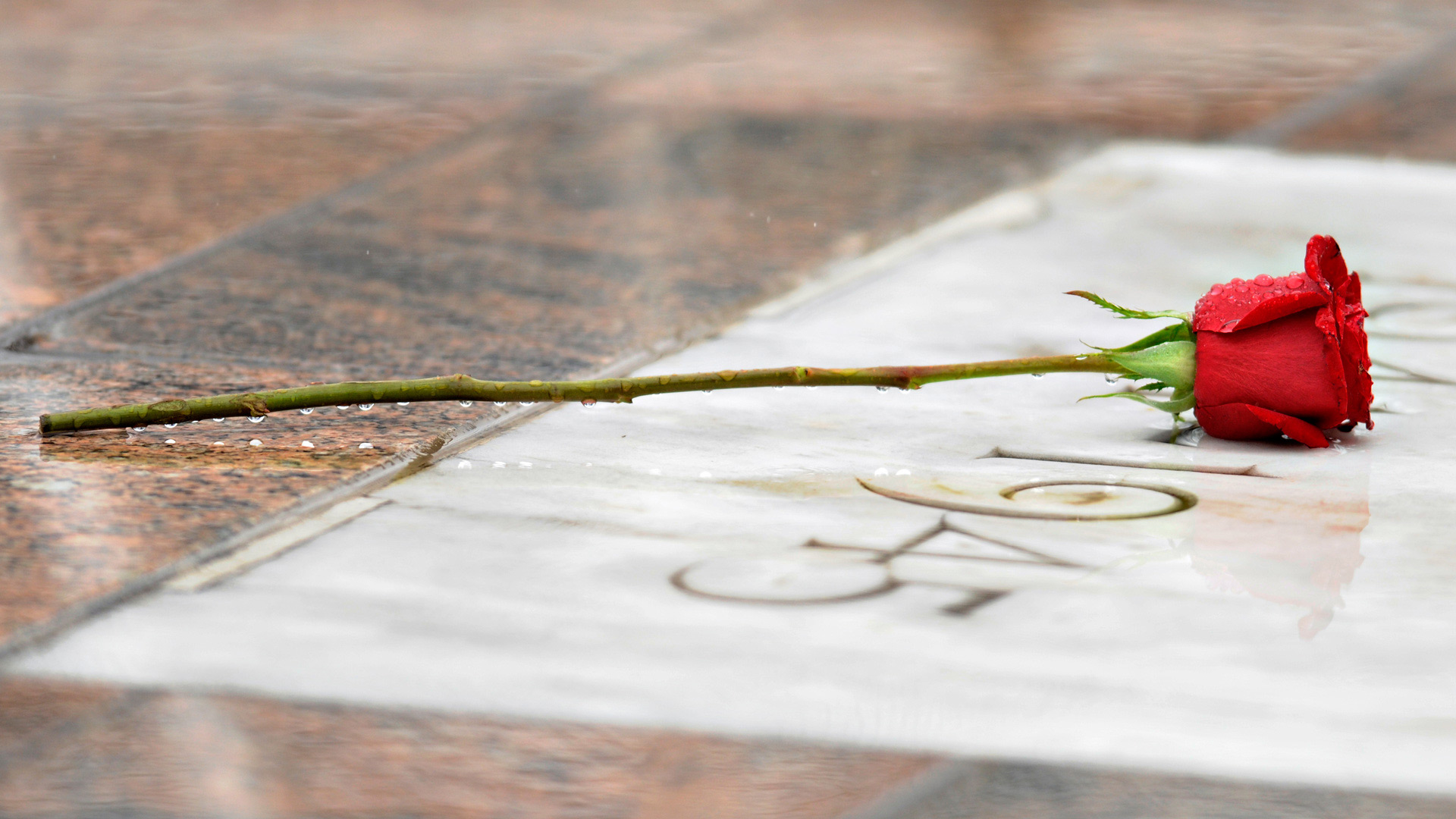 A rose lies on top of the grave of the Unknown from World War II at the Tomb of the Unknowns on March 25, 2013, commemorating the 150th anniversary of the presentation of the Medal of Honor. The Unknowns were all presented with the Medal of Honor at the time of their interment.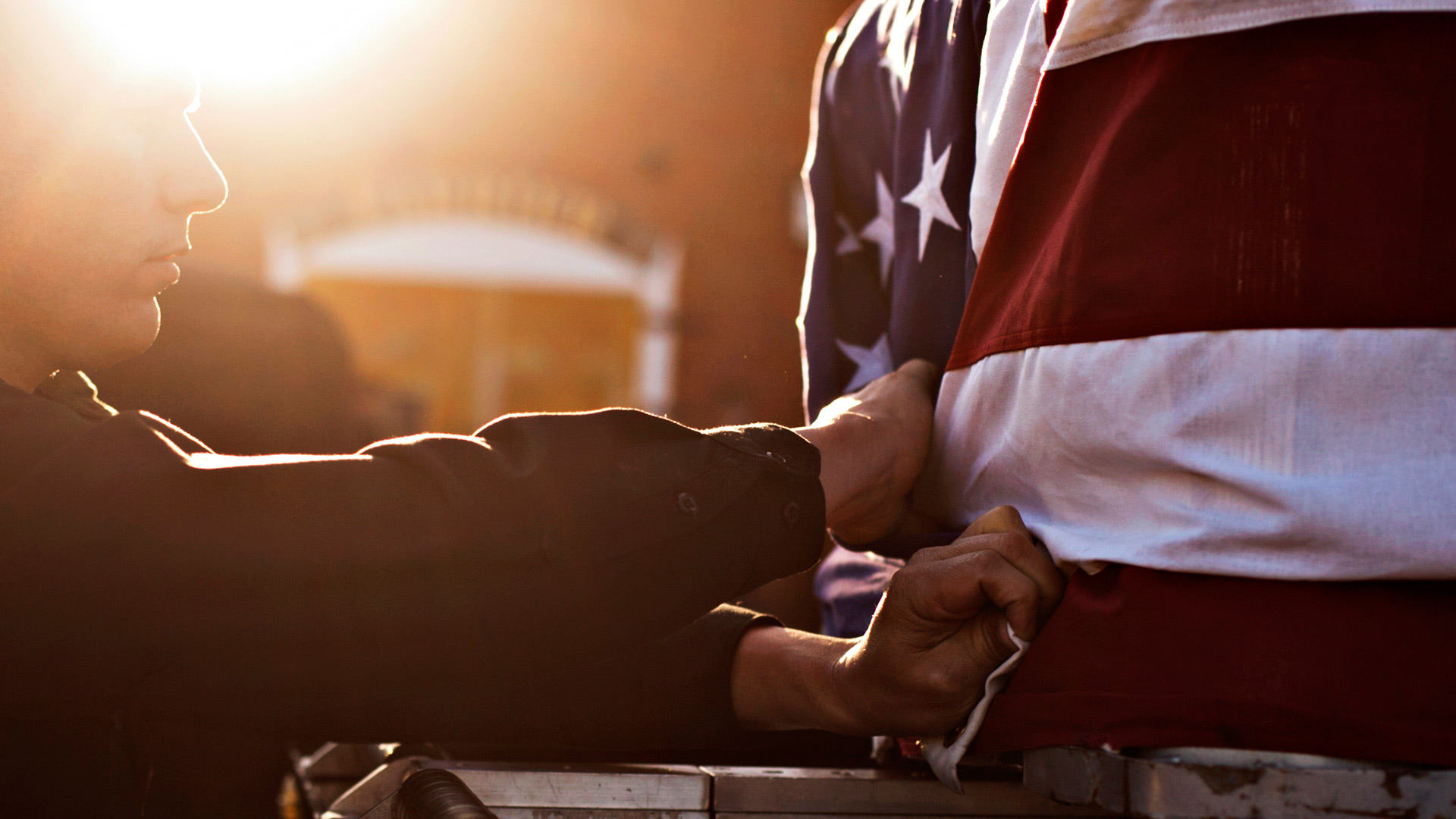 Cpl. Colt Bulot secures the flag around a casket on a caisson at Fort Myer. The soldiers of the caisson platoon start their day at 0430 preparing the horses, wagons and tack for the day's missions in the cemetery.
While Arlington National Cemetery is a popular tourist destination in the Washington, D.C., area, it remains an active cemetery and an ever-growing monument to the sacrifice of those who serve their nation.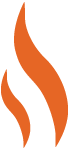 Arlington at 150
Celebrating America's Heroes
Photos, videos and story by Mike Morones, a staff photographer for Military Times.
Produced by Angy Peterson, Issa Chan, Amy Ng, Peter Shatzer, John Bretschneider, and Jennifer Milbrett.
---